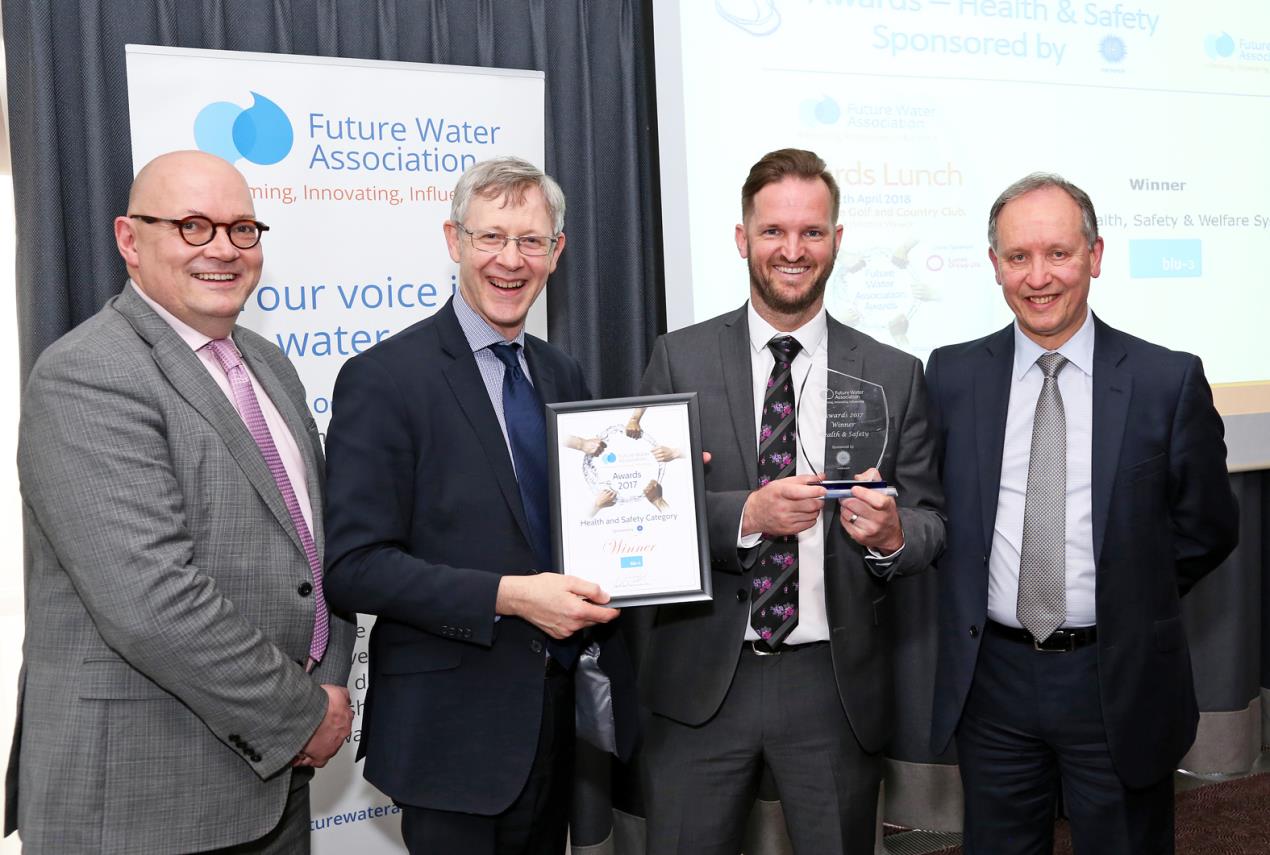 BLU-3 SCOOPS WATER INDUSTRY HEALTH & SAFETY AWARD
Leading infrastructure provider, blu-3, has won the 2018 Future Water Association Health and Safety Award, sponsored by nebosh, recognising the company's commitment to employee health, safety and wellbeing.
Richard Jones, Risk & Strategy Director at blu-3, collected the award at the Future Water Association Awards Lunch earlier this month. blu-3's Commercial Manager, Richard Hope, was also shortlisted for the Emerging Talent Award, sponsored by UK Energy and Skills.
blu-3 health and safety award FWAAs a family-run business, blu-3 considers its workforce to be its most valuable asset and has implemented a range of initiatives to put health and safety at the forefront of all working practices.
Jim Southworth, blu-3 Managing Director, said: "It is extremely rewarding to be recognised by the Future Water Association for our hard work in delivering a safer working environment. For Richard Hope to also be nominated and shortlisted in the final three for the Emerging Talent Award is a great achievement that we are very proud of.
"At blu-3, health and safety is the number one consideration when planning any project, and the wellbeing of our employees, contractors and communities alike is taken very seriously. Our vision is for every individual that comes into contact with blu-3 to passionately pursue a happy, healthy and accident-free environment.
"Our initiatives, such as S.A.F.E (Stop & Think, Attitude, Focus, Engage), have resulted in behavioural change across the board and huge reductions in our lost time incidents and accident frequency rate."
Since implementing S.A.F.E, blu-3 achieved its first 2 million+ RIDDOR (Reporting of Injuries, Diseases and Dangerous Occurrences Regulations) free hours in 2016.
blu-3 has also introduced a pioneering Quick Response (QR) code-based employee identification system providing real time, quick and easy competence checks on-site. A QR code is applied to each site worker's hard hat, allowing relevant personnel to ensure everyone is appropriately trained and certified for the roles they carry out.
As well as physical wellbeing, blu-3 has also made significant investment in staff mental and emotional welfare by rolling-out Building Site to Boardroom (BS2B) training at all levels. Created by therapists, builders, developers and business owners, BS2B offers mindfulness and self-awareness coaching for blu-3 employees, equipping them to better manage stress and work / life balance challenges.
To find out more about blu-3 contact hello@blu-3.co.uk